What is Corrugated?
Corrugated fiberboard or "combined board" has two main components: the liner and the medium. Both are made of a special kind of heavy paper called containerboard. Linerboard is the flat material, typically on the outer surfaces of the board but also on the inside for some structures, that adheres to the medium. Medium is the paper that is formed into arches or flutes on the single facer and glued between the linerboard facings.
Flutes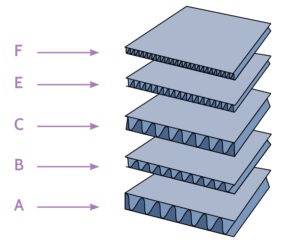 Architects have known for thousands of years that an arch with the proper curve is the strongest way to span a given space. The inventors of corrugated fiberboard applied this same principle to paper when they put arches in the corrugated medium. These arches are known as flutes and, when anchored to the linerboard with an adhesive, they resist bending and pressure from all directions.
When a piece of combined board is placed on its end, the arches form rigid columns, capable of supporting a great deal of weight. The flutes act to keep the linerboard sheets separated, maximizing the bending rigidity of the board. When pressure is applied to the side of the board, the space in between the flutes acts as a cushion to protect the container's contents. The flutes also serve as an insulator, providing some product protection from sudden temperature changes. At the same time, the vertical linerboard provides additional strength and protects the flutes from damage.
Flutes come in several basic designations. Flutes with the same designation have similar size, but may have various flute profiles and number of flutes per foot within a given designation:
A flute was the original flute profile for corrugated board. It has about 33 flutes per foot.
B flute was then developed for canned goods that were self-supporting, and so did not require boxes that supported much load. It has about 47 flutes per foot.
C flute was next developed as an all-purpose flute, and it has about 38 flutes per foot.
E flute was the next successful flute profile, and it has about 90 flutes per foot.
F flute was developed for small folding carton type boxes. It has about 125 flutes per foot.
In recent years not only has there been a proliferation of flute profiles, but there has been increase in the variation in flute characteristic measurements for any given flute profile. Flute profiles will vary, sometimes significantly, because the corrugator rolls are manufactured to address a variety of aspects (such as speed, paperboard characteristics, economies, etc.).
Combined Board
The below illustration demonstrates four basic types of combined board that are most commonly created from linerboard and medium using the variety of flute structures:
Single Face: One corrugated medium is glued to one flat sheet of linerboard.
Single Wall: The corrugated medium is glued between two sheets of linerboard. Also known as Double Face.
Double Wall: Three sheets of linerboard with two mediums in between.
Triple Wall: Four sheets of linerboard with three mediums in between.
Generally, larger flute profiles deliver greater cushioning and vertical compression strength, while smaller flute profiles provide enhanced graphics capabilities. Smaller flutes such as E and F also provide enhanced structural capabilities for primary (retail) packaging compared to paperboard (folding cartons). There is a good deal of variance across the industry in the range of flute sizes based upon the container characteristics that are desired for each application, as well.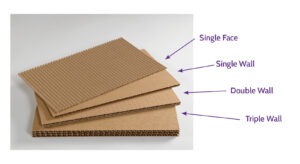 Box Styles
Boxes can be used to ship everything from apples to washing machines. By changing the design of a box, combining layers of corrugated or adding interior packaging, a corrugated box can be manufactured to efficiently ship and store almost any product.
Many standard box styles can be identified in three ways: by a descriptive name, by an acronym based on that name, or by an international code number. The numerical code system, known as the International Fibreboard Case Code, was developed by the European Federation of Corrugated Board Manufacturers (FEFCO) in collaboration with the European Solid Board Organisation (ESBO) to avoid confusion when communicating in different languages.
Below are some common box style categories and designs. Keep in mind there are many other standard styles from which to choose. In addition, corrugated boxes can be custom designed to meet the specific needs of any box user. A manufacturer's representative will have more information about additional box style options.
Why Corrugated?
Corrugated. It's not just a brown box.
Corrugated is a complete, high-performance material design, manufacturing and delivery system. Corrugated is the preferred packaging material because it is:
Durable
Versatile
Lightweight with a high strength-to-weight ratio
Sustainable
Environmentally Responsible
Made from a Renewable Resource
Customizable
Protective
Graphically Appealing
Cost-Effective
So what is it? A High-Tech Engineered Material.
What may come as a big surprise to many is that the ever-present corrugated box is high-tech:
Ongoing R&D programs continuously improve such characteristics as strength-to-weight ratios, printability, moisture barriers and recyclability.
Corrugated components, designs and end products are manufactured on sophisticated, automatic equipment that reduces costs and ensures consistent performance.
The vast majority of corrugated products are designed and prototyped with advanced, computer-aided design and manufacturing systems, providing customers with the best and most cost-effective solutions to their packaging challenges.
Infinitely Customizable.
Corrugated offers thousands of possible combinations of board types, flute sizes (caliper), basis weight, adhesives, treatment and coatings, including flame retardant and static control protection.
Corrugated is the only rigid shipping container and packaging medium that can be cut and folded into an infinite variety of shapes and sizes and direct-printed with high-resolution color graphics (including lithography, flexography and silk screening). Corrugated is custom-designed to fit specific product protection, shelf space and shipping density requirements (including inner packaging that prevents shifting).
Tenaciously Protective.
Corrugated combines structural rigidity with superior cushioning qualities. Corrugated containers nest products in an optimally protective environment, so even heavy or fragile contents arrive undamaged.
Corrugated offers excellent tear, tensile and burst strength to withstand shipping pressures. It resists impact, drop and vibration damage while offering uniform stacking and weight distribution so the load stays put.
Corrugated can be designed to contain flowable, granular or loose bulk products and even hazardous materials. It is also used to ship liquids and fresh foods, with the addition of removable liners that serve as moisture barriers.
All this from a material that is lightweight, low-cost, reusable and recyclable.
Graphically Appealing.
Corrugated containers and packaging are mobile billboards that create product image wherever they travel. Corrugated displays are eye-catching modular units that can be set up quickly and recycled at the end of a promotion.
Corrugated is a very flexible medium that accommodates a wide range of printing options to support the end-use requirement:
Offset lithography and rotogravure (high-volume)
Flexography or letterpress (shorter runs)
Silk screening (displays)
Corrugated can be direct printed in plant or manufactured with high-end process color graphics.
Preeminently Cost-effective.
One of the least expensive containers ever developed, the overall cost of corrugated shipping containers is usually a small fraction of the value of the goods they carry.
The cost of labor and tools required to produce, fill, and move the container is low. The cost of shipping is low, due to lower tare weights and higher fill densities than alternative packaging. The trend toward using even lighter-weight materials (also referred to as lightweighting) will continue to drive down shipping costs. Low raw material costs and mass production of corrugated containers makes them particularly cost-efficient.
The ultimate contribution to cost reduction is when corrugated is used as an all-in-one shipping, storage, advertising and display medium – a growing trend both in warehouse and other retail stores.
Environmentally Responsible.
Corrugated, made from a natural renewable resource, has a great environmental record. Corrugated is almost always manufactured using high percentages of recovered fiber (including old corrugated containers, kraft, old newspapers and mixed paper), thereby diverting these materials from the municipal solid waste stream.
In 2015, 93 percent of all containerboard produced was recovered and recycled in the U.S. Corrugated has the best recycling rate of any packaging material used today. And that's what happens after the corrugated box has been used and reused time and time again to store and move items around the home, store and office. 
Water-based inks are now used almost exclusively for printing graphics on corrugated containers, avoiding the use of lead-based inks and solvents.
In addition, the use of corrugated constructions with high-performance linerboard has led to a significant overall reduction in basis weight and a significant source reduction of raw materials.
Source: FibreBox